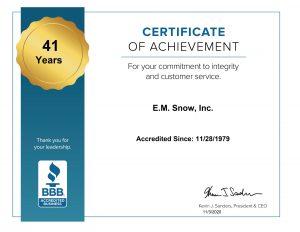 Our team at E.M. Snow has been in business for over 50 years, and during this time, we've established a track record of excellence, ensuring we cater to all of our client's needs and leave every job site cleaner than we found it.
That's why we are happy to announce that we've just received our annual Certificate of Achievement from the Better Business Bureau, congratulating our team on 41 years of exceptional service! We are always proud to receive recognition for our work, and we take pride in delivering the same quality of service that Massachusetts homeowners have come to expect from our team, year after year.
Whether we're replacing your windows or entry door, or completing a full roof installation, our team has always brought the same attention to detail & care to every project. We aim to continue providing our same quality of service for another 41 years, and we look forward to assisting you all with your remodeling needs along the way!