Our team at E.M. Snow was recently asked to replace the front steps of this property. The homeowners reached out to us because their home's exterior needed a revamp, and they reached out to our team to assist with their remodeling needs! We began by visiting the property and discussing our available decking options with them. After a bit of discussion, they decided the best course of action would be installing new Timbertech decking to boost the home's curb appeal and breathe new life into the front of their home. Our team was happy to assist and we got to work on the replacement.
We first had to remove the existing stairs to prepare the property for the replacement. Our team carefully dismantled the existing stairs and railings and got to work on installing the replacements. We installed the new Timbertech decking in its place, which transformed the home's front walkway, but we still had more to add.
After installing the steps themselves, we added the new railings. While the old railings were iron, these new railings are beautiful, white PVC, which matches the rest of the front steps, as well as the entry door.
Lastly, to finish off the project, our team added a beautiful lattice to the bottom of the steps to ensure the project was fully completed! The homeowners were thrilled with the finished product, and we couldn't be happier to hear that they're happy with their home's new front steps.
If you're interested in seeing the transformation that took place, check out the before & after photo's below: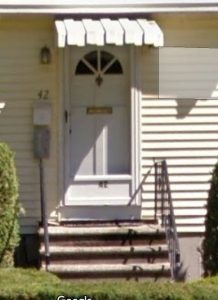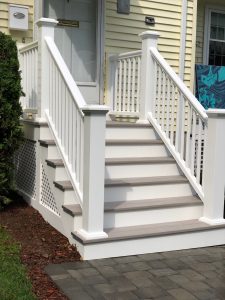 Product Options
Decking Manufacturer: Timbertech Decking
Additional Details: Timbertech Railings, PVC Trim, & Lattice
Contact Us Today
Would you like to learn more about our team's decking installation services, or other exterior remodeling services? Our team at E.M. Snow Inc. is ready to assist! Reach out to our team today by calling us at (781) 893-4546 or by filling out our team's online contact form! We look forward to hearing from you and assisting with your remodeling needs!