Our team at E.M. snow was recently contacted to install new siding on this Waltham, MA home. The homeowners existing siding was beginning to fail, warping off the home in sections as it became waterlogged. Our team was happy to step in and ensure that the home's exterior shell got the facelift it needed!
We met with the homeowners at their property to both discuss our available siding replacement options but also take a look at the home's siding and determine how extensive the damage was to the home's walls. After examining the home's walls for damage, we met with the homeowners to cover our team's options. After a bit of discussion, these homeowners decided the best course of action would be to replace their siding with new CertainTeed Monogram Siding.
Once we were ready to tackle the replacement, our team began by removing the old siding and trim on the home. In addition to the old, failing siding, the home's trim was also beginning to deteriorate around the windows, which also needed a facelift. Our team got to work removing everything and assessing the home's walls for rot and other moisture-related damage. We made a few small repairs where needed, but also removed all of the existing siding from the home so we could begin to install the new CertainTeed replacement siding.
Our team made quick work of the installation, including the window trim. While the new siding certainly provided the home with a much-needed change, installing new trim around the windows helped revitalize the home's exterior in an unexpected way. The home's exterior looks completely fresh, and the homeowners were thrilled with the completed installation! We're were happy to be able to assist, and we're always happy to see a job well done!
Would you like to see the before & after photos? Take a look below: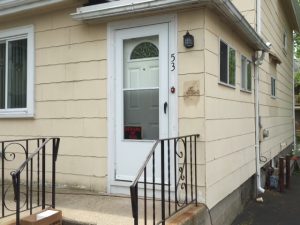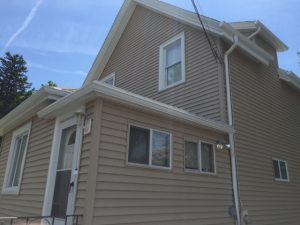 Product Options
Siding Manufacturer: CertainTeed Monogram
Additional Details: New Trim Around Windows
Contact Us Today
If you're interested in learning more about our team's exterior remodeling services, reach out today for more information! Our team can be contacted over the phone by calling us at (781) 893-4546 or by filling out our team's online contact form! We look forward to assisting with all of your exterior remodeling needs!