So you've made the decision to replace your siding. That is great! The only problem is, you don't know where to go from there. You're not sure what siding you want or what look will best suit you and your home. For the first dilemma, we recommend you click here for advice, but for the latter, we've compiled some basic color and texture coordination tips to ensure that your home stands out for all the right reasons!
Exact Match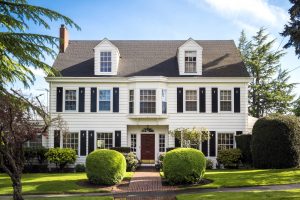 Probably the most simplest way to match your siding is to have it in one color consistently throughout. It creates a simple, clean look that isn't too busy, and allows room for other things like your gardening or your stonework to stand out. It is generally recommended that you go with a lighter color like white or a neutral brown when choosing this scheme, as going too dark can run the risk of being too heavy. Lastly, this is a look best suited for a home with lots of windows spaced throughout, as not having enough elements to break up the single color can leave things looking a little blank.
Tone on Tone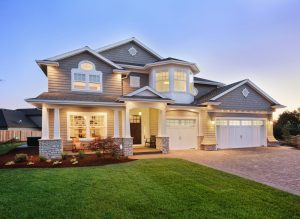 If you like keeping things in a single color scheme but find that one single color is a little too bland, you can make things a little more interesting by bringing in a slightly different shade in another portion of the house to accentuate it, without making it too bold. This makes it super easy to color coordinate it while still keeping it neutral and not too busy. Do you have some brick or stonework on your home? Choose a color that is similar to it, and bounce between that and the siding to introduce a little more depth and texture.
Bold Contrast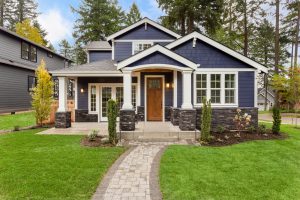 Maybe you don't want to blend in. Maybe you want to be the focal point of your neighborhood, and catch the attention of passerby. Well in that case, your best bet is to go bold! Pick a neutral shade as a foundation for your look, and from their pick an opposing shade to highlight certain facets of your home. If you have brickwork or stonework involved, pick a neutral shade that matches it, or go even further and have both siding colors contrast it to make it a 3 way color scheme! Just be careful when you go down this route, as playing with too many colors and textures can easily turn a home's appearance into a jumbled mess. Best get a few second opinions from some friends/family with good taste, or better yet, ask one of our contractors for their opinion!
Overall, what you choose for your siding should ultimately boil down to your personal preference and how you want to project your home to the community. We understand that this can be a daunting task, and that juggling this alongside all the other hassles that come with making decisions for siding can make things overwhelming, That's why we over at E.M Snow Inc. are commited to handling the job to make it seamless and hassle-free for you. Our contractors, with over 50 years of experience between all of us, are more than ready for any task you throw at us. If you feel we can be of help, contact us or fill out an inquiry form. And FYI: our exterior decoration advice comes for free!