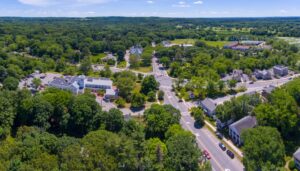 Are you a homeowner in Cochituate, MA, looking for exterior remodeling and/or maintenance? You've come to the right place, as E.M. Snow, Inc. has served many homeowners through the greater Boston area with high-quality home improvement services. Our team can perform roofing, siding, and window maintenance and give you a fantastic finished product, whether it's our home town of Waltham, Newton, Wellesley, Weston – or the census-designated Cochituate, located in Wayland, Learn more about what E.M. Snow has to offer – keep reading below or call/contact us today!
Services We Offer:
Roofing | Siding | Decking | Windows & Doors
Roof Replacement in Cochituate, MA
The roof is the nucleus of your home. Not only does it provide invaluable protection for you and your family, but it also influences other aspects of your home, like it's energy efficiency, for example. With that being said, when your roof is in a state of deterioration, as a homeowner, you'll want to make the proper repairs sooner than later. However, if it appears that repairs are not enough, you'll want to invest in a new roof altogether. Here at E.M. Snow, we have provided an array of roof replacements over the years. Though roof replacement may seem like a daunting task, especially in a financial sense, a replacement can save homeowners time and money in the long run.
Asphalt Shingle Installation in Cochituate, MA
Asphalt shingle is without question the most popular roofing material here in America. This is largely due to the fact that asphalt shingles look pleasant, are reliable, and relatively low-maintenance for both homeowners and contractors. Though asphalt shingles can hold up well on their own, they too can show signs of damage and deterioration, and when this is the case – don't hesitate to get in touch with E.M. Snow! Our experienced team offers both repairs and replacements for asphalt roofs in the greater Boston area. See what E.M. Snow can do for you by calling us (781) 893-4546 or by filling out a contact form!
Rubber Roofing Services in Cochituate, MA
As stated, asphalt shingle roofs are popular for a number of reasons, but if you're a homeowner looking for a little more oomph in your roof material, rubber roofing might be the right choice for you. Especially in a harsh and unpredictable climate such as the one we have here in New England, there is no absolutely no fault in investing in a rubber roof, as it can provide you years of service and resilience. We are more than happy to offer rubber roofing installation to homeowners in Cochituate, in addition to the greater Boston area! Learn more by contact us or by giving us a call today to learn more about our rubber roofing services!
Siding Installation in Cochituate, MA
You can't forget about siding! Though many people (and even homeowners) overlook the role that it plays, there's no dismissing the importance that siding has for your home. A strong siding job, such as the one we provide here at E.M. Snow, can prevent you from overspending on energy bills, keeping outside air from seeping into your home. If your home's siding is looking a little worse for wear – don't hesitate – call our office at (781) 893-4546 or fill out a contact form!
Siding Materials That We Use:
Contact E.M. Snow Today!
Are you a homeowner in Cochituate, MA looking for the best in roofing and siding services? Want to see what E.M. Snow can do for you? All you have to do is give us a call. We're here to give you the answers you need. Reach out to our team by calling (781) 893-4546 or by filling out our team's online contact form! We look forward to hearing from you – consider E.M. Snow for your next project!
Project Portfolio
Check out what our expert team has been working on lately!