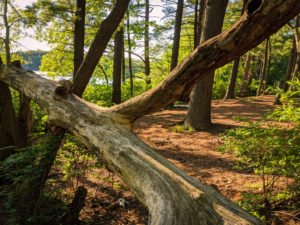 Hey Auburndale, Newton homeowners! E.M. Snow Inc. is happy to offer you the best in exterior remodeling
services.
Auburndale sits within Newton's city limits, representing one of the city's thirteen villages. Though small in size, Auburndale is home to many stunning colonial homes and natural beauty, including the likes of Lasell University and Woodland Golf Club. If you're a homeowner in Auburndale looking for exterior remodeling services such as roofing, siding, and window replacement/installation, E.M. Snow is the right choice for the job! If you'd like to learn more about our services, keep reading below to learn more about what we offer, or
contact our office today
! We look forward to hearing from you!
Services That We Offer To Auburndale, MA Homeowners:
Roofing
   |   
Siding
   |   
Decking
   |    
Windows & Doors
Roof Replacements in Auburndale, MA
When your roof is past the point of repair, replacement is the right decision to make, saving you from overspending your time, energy, and money in the long run. Here in New England, our roofs are constantly challenged by harsh weather and conditions, and despite our best wishes, they may succumb to the elements, requiring a replacement altogether. If you notice significant damage done to your roofing system, or in the attic of your home, investing in a roof replacement may be the right call to make. For homeowners looking for quality roof replacement in Auburndale, MA, you've come to the place, as E.M. Snow has completed countless projects in the area. To learn more about our roof replacement services,
contact us today!
Asphalt Shingle Installation in Auburndale, MA
The most common roofing material on the market, asphalt shingles can be founded in nearly every home, especially here in New England. While they are attractive and budget-friendly, asphalt shingles aren't bulletproof and can become damaged, buckled, or missing over time. If this happens to you – don't despair – get in touch with E.M. Snow! Our team offers
CertainTeed
products, a brand trusted by both contractors and homeowners for years. To learn more about our asphalt shingle services, get in touch with E.M. Snow by calling our office at
(781) 893-4546
or by
submitting a contact form!
Rubber Roofing Services in Auburndale, MA
In addition to asphalt shingles, our team works extensively with rubber as well! We are happy to offer
flat, rubber roofing
installation to Auburndale homeowners who are interested. More durable than asphalt shingle roofs, rubber roofs can last homeowners for years and years, protecting homes from all manner of weather, storms, or whatever mother nature throws at them. No matter if you own a residential or commercial building, E.M. Snow can repair and even upgrade your property with a durable rubber roof.
Contact us
or give our office a call today to learn more about the rubber roofing services that we offer here at E.M. Snow!
Siding Installation in Auburndale, MA
E.M. Snow is proud to provide thorough siding installation to Auburndale residents. One of the more underrated elements of your home's exterior, siding does a lot more than just make your home look good. In fact, it is your home's first line of defense against stormy weather and high winds, and can help keep the elements at bay! In addition to its practical benefits, a quality siding job can improve both curb appeal & resale value for your home. For your next siding installation or replacement, consider the team at E.M. Snow for great results!
Siding Materials That We Use:
Contact E.M. Snow Today!
For homeowners in Auburndale looking for quality exterior remodeling, E.M. Snow has you covered! Whatever you're looking for, there's almost no doubt that our expert team can get you the results you want! All you have to do is give us a call. We're here to give you the answers you need. Reach out to our team by calling
(781) 893-4546
 or by filling out our 
team's online contact form
! We look forward to hearing from you – consider E.M. Snow for your next exterior remodeling project!
Project Portfolio
Check out what our expert team has been working on lately!