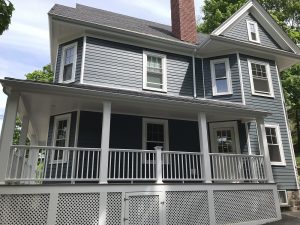 At E.M. Snow Inc. is proud to offer all of our roofing, siding, and window replacement services to Medford, MA residents in need! The city is just about 6 miles outside of Boston, located on the Mystic River in Middlesex County. It's known for being home to Tufts University and has recently become a more trendy place to live for young people. The city is home to about 58,000 residents and is always growing, so there's never a shortage of installations and repairs needing to be done. If you need home remodeling services in Medford, read on to learn more about the services we offer and how we can help.
Roofing in Medford, MA
Our team at E.M. Snow Inc. has been providing Eastern Massachusetts with expert roofing services for more than a half-century, so we have seen it all. Your home's roof plays immensely important role in protecting your home. Beyond protecting your home, your roof also boosts your home's resale value and curb appeal. Roofing systems come in a variety of different materials including asphalt and
flat, rubber roofing
. We use
CertainTeed Asphalt Roofing Shingles
for our asphalt roofing installations to ensure that the products we install match the quality of our installations. Your roof is your first line of defense when weather hits, so making sure that you have a roof you're confident in is important. If you'd like to learn more our roof replacement services, reach out to our team today!
Siding in Medford, MA
Next to roofing, siding does so much to protect your home from anything that Mother Nature can throw at it. It acts like a jacket for your entire home, keeping it safe and dry. At E.M. Snow, we know the importance of siding because we've been the leading siding contractors in the Waltham area for decades. We work with the top siding manufacturers in the industry, that's why we work with
James Hardie
for all of our Fiber Cement siding installations and
CertainTeed
for all of our vinyl installations. They're the best because of their durability and modern appearance. If you're interested in new home siding and are a Medford resident, reach out to our team today to learn more.
Windows in Medford, MA
Windows provide a tremendous amount of benefits to your home. They, of course, provide your home with light and ventilation, but they also keep out any uninvited guests and protect your home from the weather in all seasons. Old or poor-quality windows can cost you money due to poor energy-efficiency and ventilation, plus if they're in bad condition, they could lead to other parts of your home being damaged. Our team at E.M. Snow has been installing replacement windows for over 50 years and knows how to handle any homeowner's needs. We work with top manufacturers such as Harvey and Andersen to ensure that our craftsmanship is paired with a top-notch product.
Andersen
and
Harvey
have been trusted manufacturers for years, and we're proud to partner with them both. If you're interested in replacement windows in the Medford area, contact our team today!
Contact Us Today
If you're interested in remodeling your home's exterior in Medford, MA, our team at E.M. Snow Inc. is ready to assist! We can be reached over the phone by calling us at 
(781) 893-4546
 or by filling out our team's 
online contact form
! We look forward to hearing from you and assisting with your homes' exterior remodeling needs!
Project Portfolio
Check out what our expert team has been working on lately!