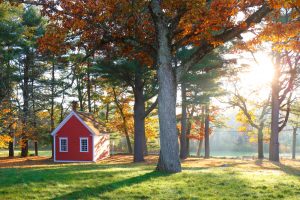 E.M. Snow Inc. is proud to offer our various home improvement
services
to homeowners in Boxborough, MA! Often simplified to "Boxboro", Boxborough is a town located in Middlesex County with a population of 5,506 at the 2020 Census. and borders Concord and Sudbury, among others. Are you a homeowner in Boxborough, MA interested in learning more about our home improvement services? If so, keep reading below to learn more about what we offer, or contact our office today for more information! We look forward to hearing from you!
Services That We Offer To Boxborough, MA Homeowners:
Roofing
   |   
Siding
   |   
Decking
   |    
Windows & Doors
Roof Replacements in Boxborough, MA
Roof replacement may seem like a formidable task at first, but it can save you from potentially catastrophic damage down the road, which is something you want to avoid at all costs. As such, if you notice damage done to your interior, investing in a roof replacement is never a bad idea. If you're in the market for a roof replacement, you've come to the place, as E.M. Snow has completed countless projects throughout the greater Boston area – this includes Boxborough! A new roof can bring a number of benefits to your home. For one, a new roof can provide great security and safety for you and your family, as it protects your home's interior from the elements. In addition to this, a strong roof can keep cold air from entering your home, which is particularly important in the winter, as it prevents you from overspending on energy bills! To learn more about our roof replacement service, contact us here at E.M. Snow to see what we can do for you and your home's roofing system!
Asphalt Shingle Installation in Boxborough, MA
In addition to our roofing services, we are also happy to offer asphalt shingle installation services to homeowners in Boxborough! We offer our customers the
CertainTeed
line of products, a brand trusted by both contractors and homeowners, as they provide quality products that will keep your home protected year after year. To learn more about our asphalt shingle services, get in touch with our team at E.M. Snow by calling our office at
(781) 893-4546
or by filling out a contact form!
Rubber Roofing Services in Boxborough, MA
We are also happy to provide
flat, rubber roofing
installation to residents in Boxborough. If you notice major signs of damage on your rubber roof – give E.M. Snow a call to get it fixed! Whether you own a residential or commercial building, our team can both repair and even upgrade your property with durable rubber roofing materials. Contact us or give our office a call today to learn more about the rubber roofing services that we offer!
Siding Installation in Boxborough, MA
Last but not least, E.M. Snow is proud to provide top-notch siding installation to homeowners in Boxborough. Siding, contrary to popular belief, does more than just make your home look good. In fact, it is your home's first line of defense against stormy weather, and can help keep the elements at bay! In addition to its practical benefits, a quality siding job can improve both curb appeal & resale value for your home. For your next siding project, consider E.M. Snow!
Siding Materials That E.M. Snow Uses:
Contact E.M. Snow Today!
Are you a homeowner in Boxborough, MA looking for the best in roofing and siding services? Whatever you're looking for, we've got you covered! All you have to do is give us a call. We're here to give you the answers you need. Reach out to our team by calling
(781) 893-4546
 or by filling out our 
team's online contact form
! We look forward to hearing from you – consider E.M. Snow for your Boxborough home!
Project Portfolio
Check out what our expert team has been working on lately!